My kitchen is ticking along. Currently in a state of disaster, but I know it will come together. I'm fully taking advantage of not actually having to live in this smaller home yet, I like having my little hobby home, so to speak.
I am picturing how this kitchen will come together. White cabinets, laminate floors, the antique wood table from my family – with all the extra leaves in it, to make room for the family and the heathens' friends.
I see cabinets and drawers not overflowing with stuff I don't need. I have this ideal of not bringing anything into the house I don't love.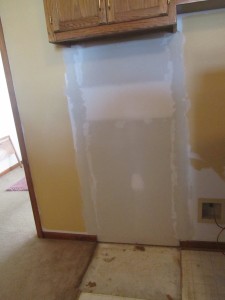 I yanked out the pantry I didn't like (too deep, shelves were already warped, took up more room than I was happy with) and instantly opened the feel of the kitchen. Someday there will be a built in butcher block desk area to match my someday butcher block countertops.
I see this workplace as taking the place of an entire office room. Taking advantage of a corner of my world in this smaller home.
I see a pantry cabinet full of ingredients to help nourish us and keep us healthy. Or more to the point, get us healthy again. The dude and I are trending toward truly fat, I'd rather cook for us, but man things in wrappers covered in cheese are yummy.
I could work on this kitchen forever, but I already have the sense of when this first stage will be "done", when I find my "enough" and will have the heart of this smaller home beating and ready to let me branch out into the rooms.