This is an honest post about finances.
If that makes you uncomfortable, then please click away now.
I am sitting in a Manhattan hotel room, 36 floors above the city, views of commerce and taxis and churches out the enormous windows.
I have come to the end of the BlogHer 2012 conference, which I have known all summer was the end of my spending.
What I did not know, was that I was going to be trying to casually (casual on the outside, a little frantic on the inside) swap funds from my checking account to pay down the my credit card balance enough so that the hotel charge won't go over my credit limit.
I didn't KNOW that I would look at my checking account and go "huh, 300 dollars from now till payday – no cushion, no extra, no credit card space for anything extra and mostly no groceries at home".
I had PLANNED to leave Manhattan today and begin paying everything off. I just didn't know I was actually going to be sitting on the edge of nothing – like my own financial rock bottom.
I'm not whining, I'm not looking for sympathy, I'm not saying I'm not going to enjoy every moment of wearing my Jimmy Choos that I chose to buy as my NYC souvenir.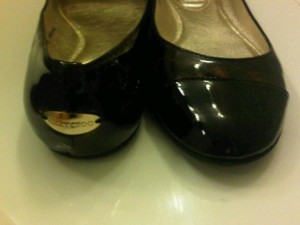 I'm frankly feeling shame right now over the screeching halt of WOW I CAN HAZ NO MONNIES. I can either keep that in, or I can let that out.
Hi, friends. My name is Dawn. I built a new life and now I'm going to be paying the bills on it.
I now have a specific goal for this little home blog of mine. Once a week, for three weeks a month, I will show you something in my house I have done to make it better and make it mine. That fourth week, I will tell you what I have done to pay it off.
Frankly, I have everything I need. It's time for me to readjust my wants and focus on all I have. I don't want to feel poor, I want to learn to appreciate and take care of what I already have.
I aspire to be flat broke.