My new kitchen.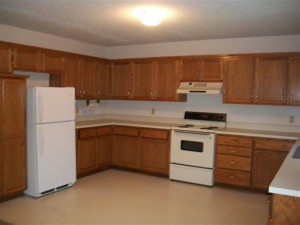 The previous owner was a 98 year old man. I don't think the cabinets were ever touched. So they are in perfect shape. However, I have never liked cheap ass, slightly rough oak cabinets with gold hardware. I love the condition of them, but they are going to get some paint on 'em.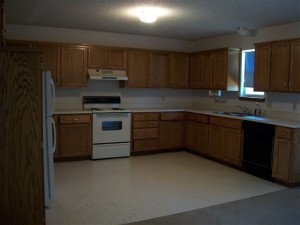 Note the tiny white fridge, off-white range and black dishwasher. I should have a hook-up to swap that range and dishwasher for some white – but that is in a holding pattern till the 3rd.
The floor is rolled out faux linoleum in the actual kitchen part and old man smelling gray carpet in the dining area. All that needs to go as well. Buh-bye fugly!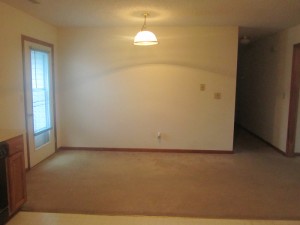 I'm sure we can find a better way to light up the joint – I have no clues about what that's going to be yet, but together we will figure that out!